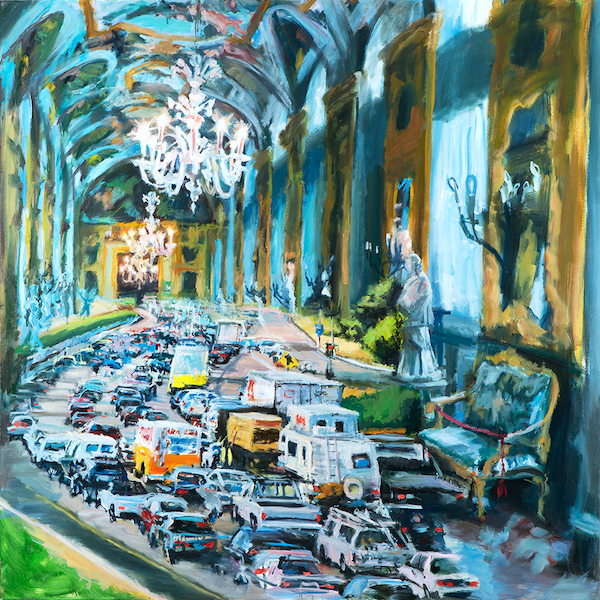 This engagjng three-day themed painting workshop focuses on the theme of "Arcadia". In terms of subject, Arcadia could be represented by a place in nature, a poetic space in the imagination, or a cozy domestic interior. Conceptually Arcadia could also suggest a frame of mind where one can feel free to let go and express oneself, using art-making as a forum for play and pleasure. Bring your sense of humour!
The workshop includes a brief slide lecture of inspiring historic and contemporary artists who have a "loose" approach to their work. For instance, paintings by artists such as Pierre Bonnard, Henri Matisse, and Edouard Manet offered a way of painting that broke free of the constraints of expectation around colour palette, painting technique, and the idea of "finish" in painting. More recent artists such as David Hockney and Karen Kilimnik bring their unique sensibility into their work that has one foot in the past yet looks unmistakably of today.
Over the course of the workshop,participants will be assigned fun and challenging timed painting exercises to build confidence to take risks and discover new strategies to their painting practice. Includes blind-contour drawing, semi-blind painting, collaborative painting, limited palette, mark-making, experimental colour, and other approaches to make the process more playful and exciting.
The workshop will culminate with a final personal painting project.
Oil and acrylic. A supply list will be provided in plenty of time before the workshop.
October 22, 23, 24:  9:30-4pm 
Tuition: $202.25
Registration deadline: October 7, 2019
Location: The Art Studio, North Island College, 9669 Roger St, Port Alberni
To register please contact Sue Thomas: suzyqt@telus.net
Instructor Biography: A finalist in the Royal Bank Painting Competition, Val Nelson has exhibited widely across Canada, and her work has been collected enthusiastically worldwide. Val has taught painting at the Gordon Smith Gallery, Shadbolt Arts Centre, Emily Carr University, and Vancouver Island School of Art. She has 1800+ students and five-star reviews for her online painting course with Bluprint (formerly Craftsy). Val believes that painting can be fun and challenging, offering a beautiful pathway to self-realization.
SUPPLY LIST
12 x 16" Canvas-paper multi-sheet pad or 10 primed canvasses
Paint (oil or acrylic)
Titanium white 150 ml
Cadmium yellow light or cadmium lemon 150 ml
Quinacrodone red 150 ml
Ultramarine blue 150 ml
Pthalo green 150 ml
Burnt umber 150 ml
Brushes: Bring what you have, generally bristle brushes for oil painters, synthetic brushes for acrylic painters. Below are recommended sizes and brush types.
Filberts, two of each: #12, #6, #2
Round x 2: #0
1.5" flat synthetic brush
Mediums and Accessories for Oil painters
Gamblin Galkyd light 16oz or Liquin original 250ml or your preferred quick-dry medium
1 litre Gamblin Gamsol or equivalent odorless mineral spirits (no turpentine please)
3 x 250 ml glass containers with lids
Brush holder, or 500 ml glass jar to hold brushes
Grey disposable palette sheets 12 x 16" (White okay if grey not available.)
Mediums and Accessories for Acrylic painters
Golden satin glazing liquid or equivalent 8oz
Bucket or 2 x 1 litre yogurt containers for water
Plastic yogurt container lid for medium
Grey disposable palette sheets 12 x 16" (White okay if grey not available.)
Large spray bottle for water
Miscellaneous
We will be working from photo images. I will provided many for the studies, but bring along several of your own printed photo images for your final project(s) which you will paint on Day Three,
on the theme of "Arcadia". Recommended print size bigger than a snapshot ie 8 x 12"
Tabletop easel or free-standing easel if you have one. Or you can just work on the tabletop.
Brown bag lunch/ snacks
Masking tape or green housepainter tape
Sketchbook and HB pencil
Box-cutter knife or pencil sharpener
1/8" MDF board 24 x 36 inch
Chopsticks or thin bamboo (½" or ¼" in width and approx. 15" long) x 6
Scissors
2 small trowel-type palette knives (approx 1" long blades)
Plentyof shop-towels or paper towels or rags
Nitrile disposable gloves (latex-free, available at London Drugs) or barrier cream (art supply store)
To wear: Apron or old clothes and old shoes